Topics
Synthesis and Activity of Carboranamine Derivatives as an Anti-Influenza A Virus Active Compound
The adamanthylamine (Amantadine) and its derivative, Remantadine, show an anti-influenza A virus activity. The mechanism of this activity is considered as destruction of the virus cell membrane. The following figures show a typical anti-influenza A active compound.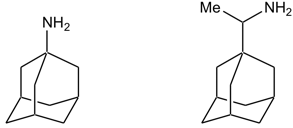 Amantadine Reamantadine

Influenza A virus active compounds
The following carboranamine derivatives were synthesized and their anti-influenza activity were estimated.

Results:
Unfortunately, all of these compounds did not show an anti-influenza virus activity.
From experimental notebook at 1998.