Last Modified
1 January 2020

Homology Modeling for HyperChem
Click on the individual program names to access to their detailed features.

Restraints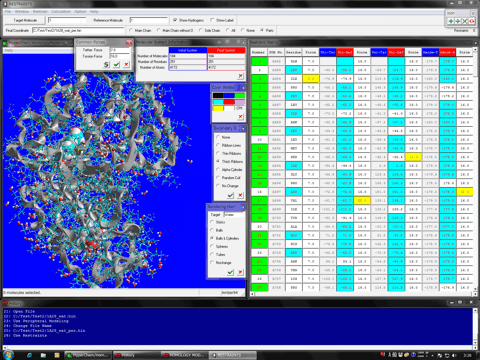 Feature
In the molecular modeling for a small molecule, a restraint condition for the molecular dynamics calculations is not important, since the molecular dynamics calculations for the small molecules are generally used for searching the stable conformations and generating the many initial structures for some subsequent purposes. However, in the molecule modeling for a big molecule such as a protein molecule, a restraint condition is essential for the molecular dynamics simulations and annealing. Here, we encounter an fundamental problem that we must correctly prepare the large number of restraint conditions (generally the order of thousands) required for the big molecule. In general, the settings of these many restraint conditions are described to an input file by hand.
The "Restraints" program is an epoch-making graphical user interface, which can prepare at once the large number of restraint conditions (for protein, water, and small molecules, etc.) for the atom coordinate and torsion angles (f, y, and amide) of a molecule system in the HyperChem workspace using the corresponding final coordinate. This function is also available for the groups such as main chain atoms and side chain atoms with/without hydrogen atoms. In general, this program is used for the preparation of restraint conditions for the molecular dynamics annealing of the final model. Moreover, the program can be used for controlling the dynamics of a protein molecule system. For example, the program can be used for analyzing a reaction coordinate between apo and holo form proteins.